Tooling & Production Platform
mobilize your heavy and expensive equipment
wheeled transporter
capacity 10.000kg
integrated lifting system
differential driving
radio controlled
powerful direct brushless drive
load spreading suspension
accurate speed control
all electric and clean technology
DC-version: battery powered
AC-version: 400V supply via cable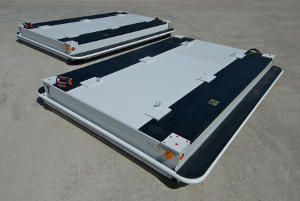 Mobilize your heavy and expensive equipment and move it to the production station where it is required.
Retractable wheels are pushed down before moving. Once your machinery is in production, the frame of the TPP rests on 3 sturdy support pads on the floor of the plant, ensuring good stability. The dimensions of the TPP are adaptable to the size of the machinery. The structure is robust and the chosen technology has proven its reliability in many applications.
The TPP is a cost saving solution to boost the productivity of your installation.